AU PAIR IN CHINA
In 2011, we started our Au Pair inbound program, because nowadays more and more Chinese families are eager to hire foreign assistants to teach their children English at home. Our inbound program for Au pairs lasts for 3-6 months, which depends on the au pair and host family. Participants can get a better understanding of Chinese culture, custom and Chinese food by living with the host family. It's easy to improve their Chinese ability through daily conversation. Our center will periodically arrange special courses, activities, and travels to help the participants get a better understanding of China.


Each host family is unique and has their own schedules, traditions and hobbies - no Applicant experience would be exactly the same.
10 important questions to ask yourself when deciding for the au pair programme

Besides the practical considerations around your options within the au pair programme, there are some basic questions you need to ask yourself to help make a decision in going abroad and taking part in an au pair programme:
Do you like working with children?
Do you have first-hand experiences with children?
Are you aware that taking care of children can be stressful and needs a lot of patience and commitment?
Will you be prepared to help the family with their daily household routine?
Are you flexible?
Do you have at least a basic knowledge of the language of your future host country?
Are you able to adapt and integrate into a new life and become part of your host family?
Are you willing to follow the rules and the life style of your host family?
Do you want to learn the language and find out more about the culture of your host country?
Are you communicative?
If you are able to answer these questions with YES you are ready to apply as an au pair!
Check here on the next steps to become an au pair >>
Age & Required Experience
between the ages of 18 and 30
at least graduated High School
fluent in English (or no strong regional accent)
good health and physically fit
clean criminal record
interest in China and a willingness to be open minded
Benefits of the au pair: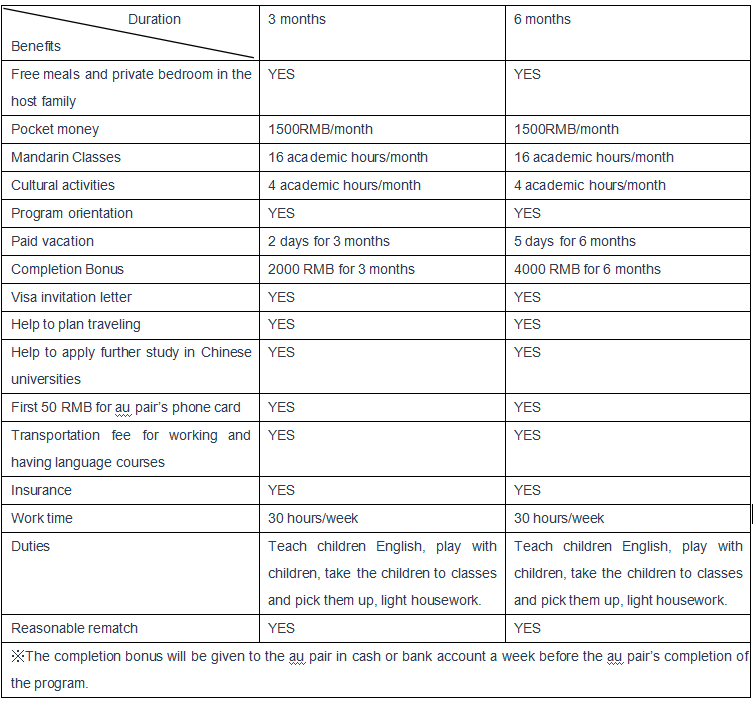 For more information pleasse contact us